PremiumSoft, Inc. is a technically experienced company providing cutting edge solutions. We have both Microsoft Certified System Engineers (MCSE) and Microsoft Certified Solution Developers (MCSD) on staff to provide complete hardware, software and design solutions. Through experience and technical knowledge, PremiumSoft can provide you with the solution specific to your business needs.

PremiumSoft, Inc. provides the following services:

High Speed Internet Access (HSIA) solutions for business

Network design and implementation

Software design, development and implementation
Consulting Services
---
High Speed Internet Access (HSIA) solutions
With hundreds of installations, PremiumSoft has a proven track record of designing the best hospitality HSIA solutions at the best price with unsurpassed service and support. PremiumSoft provides the best in hard-wired and wireless solutions customized to fit your specific needs. For a complimentary HSIA assessment, please email us at or call us today at (520) 844-1138. For Best Western sites, we use SpeedLinks compliant equipment. For additional information, click here: http://www.premiumsoft.com/hsia.htm
---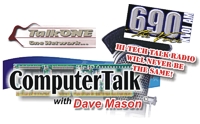 Listen to "ComputerTalk with Dave Mason" Online here.

PremiumSoft is a proud sponsor of the Nationwide syndicated Radio talk show "Computer Talk with Dave Mason".